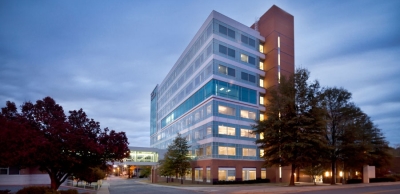 Facilities in the UAMS Reynolds Institute on Aging
Our lab occupies a well-equipped research suite on the 4th floor of the Reynolds Institute on Aging (ROIA) at UAMS, across the street from the VA Medical Center. The RIOA is an 8-story, 192,000-ft2 facility, which was completed in 2011 with the help of a building fund award from the Reynolds Foundation. Each of the investigators suites comprises two laboratories of ~450 sq. ft each, two offices of ~165 sq. ft. each, and a central meeting area (~200 sq. ft.). The 4th floor also provides a common equipment room, a tissue culture suite, a freezer room, a dark room for the Stratagene Eagle Eye II system with cooled camera, and an imaging room equipped with a Nikon E600 epifluorescence microscope, CoolSnap ES and CoolSnap color digital cameras for image capture, and the MetaVue software package (version 6.2) for image analysis. Additional office space and meeting rooms are on the 5th floor, connected by an internal stairway.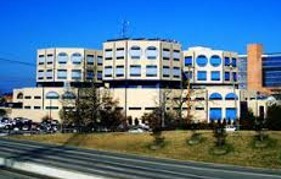 Facilities at the Veterans Administration Medical Center

Dr. Shmookler Reis's group utilizes two 400-sq. ft. laboratories, and one 600-sq. ft. laboratory, plus a small meeting room and an adjacent office (approximately 180 and 150 sq. ft. respectively.) This area is especially well equipped for research on C. elegans genetics, and also ongoing cancer research (with both horizontal- and vertical-flow tissue-culture hoods and multiple full-gas-control incubators).

Dr. Ayyadevara occupies one 600-sq. ft. laboratory on the same corridor as Dr. Shmookler Reis's labs, fully equipped for nematode research, and also has a nearby office (~135 sq. ft.). Confocal microscopes, and a Nomarski imaging microscope coupled to microinjection apparatus, are shared by the two PI laboratories at the VAMC

UAMS Campus Resources

Services available to all investigators include biostatistical analysis through the Division of Biometry; computer services providing free maintenance and troubleshooting for network and computer problems; and animal care provided at UAMS and at CAVHS, with a combined capacity of ~6000 small-animal cages, overseen by licensed veterinarians; these facilities are fully accredited, and supported by a Pathology Core.

Core facilities on campus include the Proteomics Core (Dept. of Biochemistry & Molecular Biology), led by co-investigator Alan Tackett, whose expertise is particularly strong in the analysis of protein postsynthetic modifications; a Molecular Biology Core (Dept. of Biochemistry & Molecular Biology), which maintains a DNA synthesizer, several automated DNA sequencers, and diverse phosphor-imagers; a Microarray Core in the Cancer Center; Flow Cytometry Cores for cell sorting on FACS instruments, including a new 5-fluor, high-capacity FacsAria fluorescence-activated cell sorter, situated at the VA with full technical support; a Molecular Interaction Core, based on a BiaCoreTM 3000 instrument, in which surface plasmon resonance measures affinity, binding kinetics, binding-specificity, and epitope mapping for a variety of molecular species; a Protein Biomarkers Core using a Ciphergen SELDI (Surface-enhanced Laser Desorption/Ionization) instrument; two Digital/Confocal Microscopy Laboratories to support confocal and digital-deconvolution microscopes, in still and time-lapse modes, with bright-field, phase contrast, and fluorescence imaging. .